---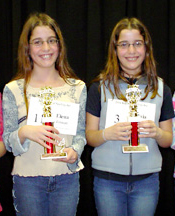 I am married to Gina Cuclis, principal of Cuclis PR, and the father of identical twin girls, Olivia and Elena born 2-18-93. They read well beyond their years, but then what would expect from the children of a librarian? They are also both spelling bee champions (see picture at right).

I am an experienced commercial whitewater river guide, and have led numerous trips down western rivers, including the Colorado River through the Grand Canyon. This picture is of my first of two (so far) lifetime flips. The rapid is "Two Pair" on the North Fork of the Yuba; my other flip was in Granite Rapid in the Grand Canyon. Ask me to tell you the story sometime. If you would like more information on my whitewater experience, please see my whitewater resume, although I haven't yet made note of the fact that I've now been down the tallest commercially rafted waterfall in the world. My fully-outfitted Avon Pro Mark V oar boat (with 10 foot, 2 1/2" diameter Ash oars) is in the garage awaiting put-in, and is available for sale.

QuickTime movie (1.2 MB) of Crystal on the Colorado River through the Grand Canyon
filmed by my brother Derek Joe Tennant.
I've been an amateur photographer since I was fourteen (we won't discuss how long ago that is), and have accumulated a large collection of photos, that are free for personal use. One of my favorites is this one here of a Grand Canyon Collared Lizard. I just kept snapping pics and creeping up to him until I could have tickled him under the chin.
I also enjoy cross country skiing with my family, reading (of course), and the ocassional friendly low-stakes poker game.
Meanwhile, I've kept busy by building a rather substantial treehouse. Go figure.
If we meet up on one of my many speaking trips and you offer to buy me a drink, it will be either a martini (dry, up, with olives), a gin and tonic, a glass of wine (just about any varietal), or a single malt scotch depending upon the hour and my mood. Yes, I'm quite old enough to know what I want.
If you want to know what I do for a living, see
Roy Tennant: Professional Life
.